SIGMA at Georgia Tech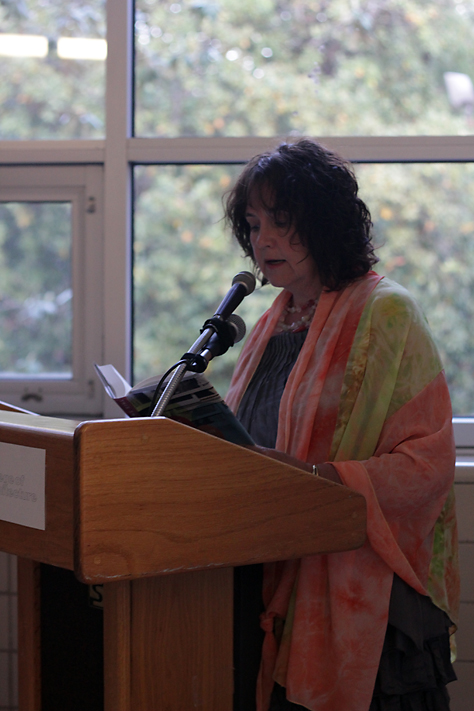 Last week, I participated in Georgia Tech's Neuro-Humanities Entanglement Conference.  The event was kicked off by a Neuro Salon at the School of Architechture that featured many cool installation-style examples of the ways in which the arts manifest what we are learning about our own neurology. 
I read  a few portions of THIS SHARED DREAM, in particular a bit in Megan's first appearance in the book, where she is thinking about her work in memory research: 
     Megan thoroughly enjoyed riding the Metro.  She loved surrendering to motion; motion without attention.  It also gave her two extra hours a day to read. 
     She read, with great enjoyment, things that few people enjoyed reading–scientific papers.  Her field was memory research.  Unlike her sister Jill, who had taken years to finally buckle down and finish her doctorate, Megan had gotten on the fast track while still in high school. 
      Why memory?  Because that was all that there was. 
      Everything that you think is happening now already happened.   You're processing something that happened a few seconds ago.  Our reactions are slow.  We live among wavelengths.  We are wavelengths.  Wavelength is all there is.  All right, I know I just said that memory is all there is, but now we're getting down to the physics of it.  All the bits and parts of us, the fabulous multiplicity of us, is what I want to know about. 
      Try using those lines at a cocktail party.  She usually just said, "I'm in research."  When pressed, she said, "Scientific."
      After the reading, Lauren Brett from Technique, our very professional student newspaper, interviewed me about my affiliation with SIGMA and my recent trip to Saudi Arabia for the Global Competitiveness Conference.  She wrote this great piece, which is in today's (April 20 2012) Technique.  http://nique.net/news/2012/04/20/prof-crafts-worlds-for-u-s/